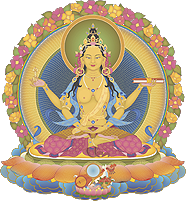 Welcome to the  NKT-IKBU International Fall Festival 2013, Profound Teachings from Buddha's Heart, with Venerable Geshe Kelsang Gyatso.
This Festival offers a unique opportunity to meet the Founder of the New Kadampa Tradition and receive directly from him the Tantric  empowerment of Great Mother Prajnaparamita, and teachings on the perfection of wisdom, from his book The New Heart of Wisdom.
The Festival also celebrates the opening of the Kadampa World Peace Temple, near Sintra.
You are invited to join thousands of spiritual practitioners from all over the world to enjoy an unforgettable spiritual holiday of empowerment, teachings and meditations in the beautiful surroundings of Cascais, Portugal.
This extremely rare and precious occasion is not one to be missed!